Meet with The Profit Recipe team for one of our
facilitated business sessions
The Profit Recipe can guide you through the EOS Process™ and help develop the Six Key Components™ of your company. All of our team members are EOS Implementers™ who can navigate your team skillfully and systematically through challenges. With our support, your team can get the most out of the Traction process and establish a business set up for long-term success.
Discover the
powerful impact

our process has had on businesses just like yours

Working with The Profit Recipe has been transformational. Our leadership team has never been more productive, our goals and vision have never been more clear, and our meetings have never been so productive. Two months after working with them, we had our best revenue month, ever. And we achieved our 3 year picture that seemed impossible at that time. We continue to work with them after 4 years because they deliver!
—Brett Trembly, Esq., Trembly Law Firm
With The Profit Recipe's help we've been able to put a leadership team in place, establish meeting rituals, and improve our company on a week-by-week basis. If you get the opportunity to work with them I would highly suggest you take it. They are a game changer!
—Josh Nelson, Founder & CEO of Plumbing & HVAC SEO
Cesar is the real-deal. He's a self-made entrepreneur who's learned the value of applying the tools required to scale his business from the ground up. He's walking, talking evidence that this stuff works… and he's born to teach. I could not recommend Cesar more strongly as a speaker for your event or a facilitator for your workshop.
—Govindh Jayaraman, Paper Napkin Wisdom
As a result of working with The Profit Recipe we now have a clear vision for our company that we are able to effectively communicate to our team. Our team is now fully engaged, excited, and committed to our company goals. If you are tired of struggling to implement this process on your own I highly recommend them. They have great facilitators who are intuitive and insightful and can get the process done for you.
—Adi Kaskavalciyan, President, gFour Marketing Group, Inc.
Check out how other
successful businesses

made it happen

Hundreds of South Florida leaders are sharing best practices to E-volve in their business, leadership, and teams. Join them at the next event and see what the hype is about!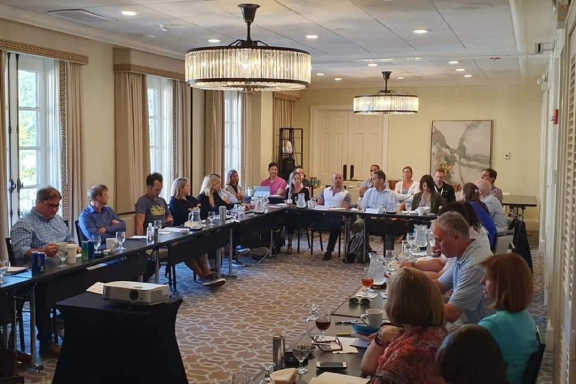 Go deeper on
Business By Design
What's the next step in the flywheel?